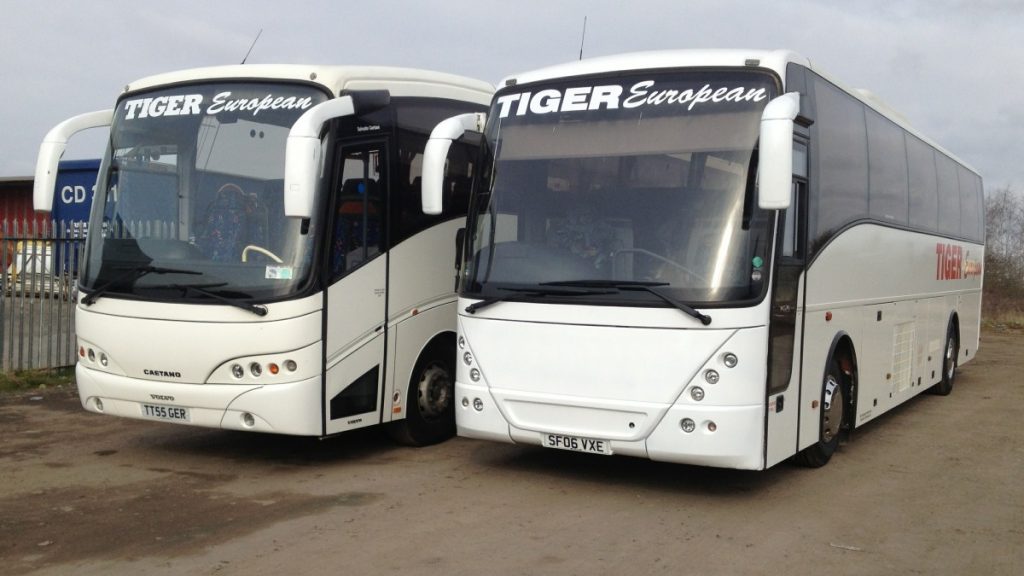 Coaches range from 19 seaters up to our luxury 83 seater double decker coach.
Various sizes are: 19,25,33,37,49,51,53,57,65,83 seats
We also have a large selection of double decker buses ideal to transport large numbers of passengers.
Double decker bus sizes are 74,76,78,80,84,92 seaters.
Most of the coaches are equipped with 3 point seatbelts however there are some with lap belts.
See Our Coach Fleet for more information.
Coaches available for all occasions. Whether it be weddings, funerals or a day at the races, our coaches are ideal to cater for all.
Coaches available with Toilet, Air conditioning, Reclining seats, DVD Players, PA Systems, Fridge, Hot drinks machine and Head Rests.
Wheelchair Accessible Travel
Something relatively new to Tiger European is wheelchair accessible vehicles. In our diverse fleet of vehicles we have several coaches and buses with wheelchair accessibility.
Our 53 seater executive coach can take up to 3 wheelchairs and 40 passengers seated.
Our 57 seater executive coach can take 1 wheelchair and 49 passengers seated.
Our 100 seater double decker can take 1 wheelchair and 96 seated passengers
Our 76 seater double decker's can take 1 wheelchair and 75 seated passengers, ideally local distance due to them being economy vehicles.
Please feel free to contact us to discuss any specific needs.